Jenna Thornber, Assistant Coach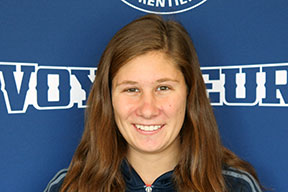 A member of the Laurentian varsity cross-country and track team for four years, Jenna Thornber brings her varsity experience and infectious enthusiasm to the team as an assistant coach, working with the cross-country and middle distance groups. She now works as the Director of Outreach with Laurentian's Students General Association.
An Uxbridge native, and graduate of the Outdoor Adventure Leadership program at Laurentian, Jenna is an avid traveler who continues to pursue adventures all over the world. She is also a spokesperson for the Adventure Leadership program at Laurentian, as you can see from the program's promotional video, in which plays the lead role.
Not content to simply coach, Jenna continues to train and race as an open athlete.