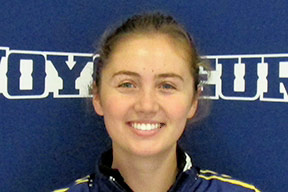 Student trainer, Mackenzie Crowther, is a second-year Health Promotion student and a graduate of St. Benedict Catholic Secondary School in Sudbury.
Mackenzie states that her goal is to find a husband who will pay for everything while she stays home and takes care of their seven dogs  🙂  Failing that, she would like to become a physiotherapist.
She has a background in athletics, having played hockey from the age of three and competed in cross-country and track in high school. She also notes that she likes trees.