Ontario University Cross-Country Running Championship – 2015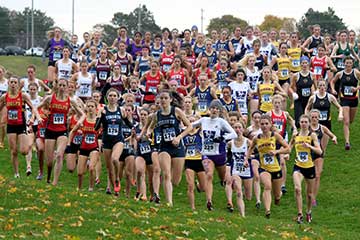 Ontario University Cross-Country Running Championship
Columbia Icefields, Waterloo, October 31, 2015
The Laurentian cross-country running teams competed at the Ontario University championships in Waterloo this weekend. The women's squad qualified for the CIS championships by finishing 5th, with a record low score and time. The men's team finished a respectable 12th, beating three squads in their first year of competition and achieving their season's goal time.
The women's score of 121 points was a school record as was their average time of 21:55 over the six kilometre race. They were led by Katie Wismer, who finished 17th in a time of 21:30, closely followed by Michelle Kennedy who finished 19th in 21:44; Marissa Lobert who was 24th in 21:55; rookie Jessie Nusselder, who was 30th in 22:14; and Maddie Bak, who was 31st in 22:14. Displacers were Sam Edwards, 48th in 22:57 and Nicole Rich, 55th in 23:11. Kennedy, Lobert, Nusselder, and Bak all ran personal bests.
Jessie Nusselder was the 3rd fastest rookie runner in the OUA.
"Our women were just 7 points out of 4th and only 18 points from 3rd, so we're darned close," said head coach Dick Moss. "There's room for us to improve, so we're really looking forward to the CIS championships."
The men's squad finished 12th with an average time of 34:55, surpassing their season's goal of 35:00 over the 10 kilometre race distance. They were led by Ewan Craig who finished 61st with a time of 34:12 and followed by Jacob Dupuis-Latour who was 62nd in 34:15 and Gordie Chown who was 63rd in 34:16. Luke Mackrell was 76th in 35:00 and Mika Muinonen was 93rd in 36:52. Displacers were Jordan Courchesne, who was 98th in 37:26 and Drew Bursey, who was 99th in 37:29.
Craig, Dupuis-Latour, Chown and Mackrell all ran personal bests.
This concludes the season for the men's team. The women will compete at the CIS Championships in Guelph in two weeks.

Laurentian's Individual Results – Women
17. Katie Wismer, 21:30
19. Michelle Kennedy, 21:44
24. Marissa Lobert, 21:56
30. Jessie Nusselder, 22:14
31. Maddy Bak, 22:14
48. Sam Edwards, 22:57
55. Nicole Rich, 23:11
Women's Team Results
1. Guelph, 38 pts
2. Queen's, 82
3. McMaster, 103
4. Toronto, 114
5. Laurentian, 121
6. Western, 152
7. Ottawa, 161
8. Windsor, 188
9. Lakehead, 242
10. Waterloo, 270
11. York, 324
12. Brock, 351
13. Ryerson, 392
14. Trent, 404
15. Laurier, 423
16. Nipissing, 447
17. Algoma – partial team
Laurentian's Individual Results – Men
61. Ewan Craig, 34:12
62. Jacob Dupuis-Latour, 34:14
63. Gordie Chown, 34:16
76. Luke Mackrell, 35:00
93. Mika Muinonen, 36:52
98. Jordan Courchesne, 37:26
99. Drew Bursey, 37:29
Men's Team Results
1. Guelph, 53 pts
2. Windsor, 54
3. McMaster, 64
4. Queen's, 117
5. Lakehead, 127
6. Western, 156
7. Toronto, 156
8. Waterloo, 264
9. Laurier, 271
10. Ottawa, 296
11. York, 300
12. Laurentian, 355
13. Brock, 409
14. Nipissing, 419
15. Ryerson, 425
16. Algoma & Trent – partial teams