Cross-Country 2014 – Results, Western International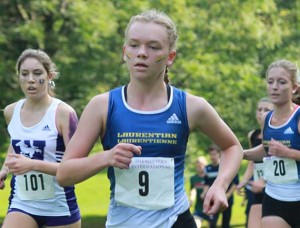 Laurentian Women Run to Race Record at Western
Thames Valley Golf Course, London, Ontario, September 20, 2014

The Laurentian women's cross-country running team competed at the Western International, in London, this weekend, finishing with a best-ever 4th place finish for the event. The race involved 111 runners from 12 teams from Ontario, Quebec and Indiana.
Led by second year runner, Emily Marcolini (Sudbury), the Vees finished with a school record 124 points on the course, only 3 points behind 3rd place McMaster. It was an improvement over their 7th place 187-point finish of last year.
Aside from Marcolini, the Vees placed five scoring runners in the top-30, including Katie Wismer (Sudbury) in 19th, Michelle Kennedy (London) in 26th, Samantha Edwards (Toronto) in 28th and rookie Maddy Bak (Guelph) in 30th.
Laurentian's top-five scoring runners finished only 26 seconds and 17 places apart, an excellent grouping in a sport in which only the top-five runners from each team score points.
"It's still early in the season, and there were some fast runners from several teams who didn't race," said head coach, Dick Moss. "That said, this was an encouraging result, and it shows that both our depth and level of individual performance are improving. I think we'll be a very competitive team this year."
Laurentian's next race is next Saturday at the Harry Anderson Invitational, in Rochester, NY.
Laurentian Individual Results
13, Emily Marcolini, 19:02
19, Katie Wismer, 19:11
26, Michelle Kennedy, 19:18
28, Samantha Edwards, 19:27
30, Maddy Bak, 19:28
33, Marissa Lobert, 19:34
53, Emily Driedger, 20:07
65, Lyndsay Greasley, 20:34
90, Jenna Thornber, 21:43
91, Kayla Gallo, 21:53
95, Charlotte van Walraven, 22:10
Team Results
1, Western, 37 pts
Toronto, 47
McMaster, 111
Laurentian, 114
McGill, 124
Queens, 165
Windsor, 181
Valparaiso, Indiana, 186
Waterloo, 251
Brock, 275
Laurier, 330
12. Nipissing 367