Laurentian Places 7th at the Western International – 5th Among OUA Teams. Sam Edwards Cracks the Top-10!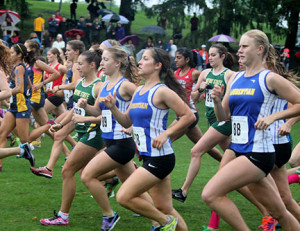 Thames Valley Golf Course – London, ON,  9/22/13

The Laurentian women's cross-country running team raced at the Western International this weekend, in London, Ontario.  The Voyageurs placed 7th overall and 5th among OUA teams in an international field of 18 squads and 163 runners.
Racing on a rain-drenched Thames Valley Golf course, the Voyageurs squad scored 187 points with an average time of 19:18 for the top five runners over the 5km course. It was the best average time in school history.
Laurentian was led by Samantha Edwards (Toronto) who earned a top-10 medal with a personal-best time of 18:39.
She was followed by Sudbury's Katie Wismer, in 28th with a time of 19:15. Sudbury rookie Emily Marcolini also ran 19:15, finishing 29th. Marcolini was the 3rd fastest OUA rookie in the race.
Alyssa Bedard (North Bay) finished 58th with a time of 19:32. Scoring was completed with a 19:47 time and 74th-place finish by Adrienne Wilson (Kitchener).
Michelle Kennedy (London), 92nd in 20:13 and rookie Meghan Rothenbroker (Aurora), 104th in 20:31 were displacers.
"This was a great start to the season, although a little unexpected," said head coach, Dick Moss. "We hadn't anticipated solid results until the Geneseo meet in two weeks. But we have a tough core of vets who are starting to come into their own, plus some talented rookies who are making a mark. And Samantha Edwards ran an amazing race. The last time we had someone in the top-10 at this race was Leila Angrand in 2006. That said, this was a 5km race. The OUA official distance is now 6km and we get our first taste of that next week in Guelph."
The Voyageur runners' next race is the Vic Matthews Open in Guelph next Saturday.
Team Scores
1. Western
2. U. of Toronto
3. Queens
4. Oakland University (Michigan)
5. McMaster
6. Wayne State (Detroit)
7. Laurentian
8. McGill
9. Geneseo (NY)
10. Windsor
11. Guelph
12. Waterloo
13. Lakehead
14. York
15. Brock
16. Laurier
17. Nipissing
18. Concordia
Individual Performances-Laurentian
10. Samantha Edwards, 18:39
28. Katie Wismer, 19:15
29. Emily Marcolini, 19:15
58. Alyssa Bedard, 19:32
74. Adrienne Wilson, 19:47
92. Michelle Kennedy, 20:13
104. Meghan Rothenbroker, 20:31
106. Marissa Lobert, 20:34
127. Lyndsay Greasley, 20:58
144. Jenna Thornber, 21:57
151. Charlotte Van Walraven, 22:32