Laurentian Places 5th at the Vic Matthews Invitational in Guelph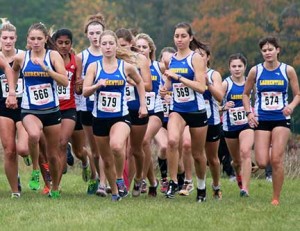 Vic Matthews Invitational
Guelph University Arboretum, September 28, 2013
The Laurentian Women's cross-country running team competed at the Vic Matthews Open in Guelph this weekend, placing an impressive fifth in a field of 13 OUA teams. The Voyageurs squad finished ahead of McMaster, Windsor, Waterloo, Brock, York, Laurier, Nipissing and Trent, and behind Guelph, Queens, Western and Toronto. Their team score was 152 points.
Running on a fast University of Guelph Arboretum course, Laurentian's athletes finished in close succession, with only a 59 second split between their 1st and 5th runners. The Voyageurs were led by second-year runner, Samantha Edwards, who finished 19th in a blazing time of 22:00 minutes over the 6km distance. Her 5 km split was 18:10, a 29-second personal best over a straight 5km.
She was followed by rookie Emily Marcolini, in 29th place with a 22:34, Katie Wismer who was 31st with a 22:37; Alyssa Bedard, 33rd in 22:43 and rookie Marissa Lobert, 40th in 22:59. Michelle Kennedy who was 52nd in 23:25 and Adrienne Wilson, 57th in 24:07 completed the scoring as displacers.
"This race included some of the top teams and open runners in the country," said head coach, Dick Moss. "McMaster and Windsor didn't have all of their athletes in this race, but that said, six of these squads placed in the top-10 at last year's CIS championships."
"The girls are improving rapidly," said assistant coach, Darren Jermyn.  "By comparison, last year we had only one athlete during the entire season who ran faster than 19:00 minutes for a 5 km . Yesterday, four runners broke 19:00 for the first 5 km, then kept going for another kilometer!"
Laurentian's next race is next weekend at the Eastern Pre-Regionals in Mount Morris, NY.
Team Scores (low score is better)
1.    Guelph – 28
2.    Queens – 66
3.    Western – 81
4.    Toronto – 90
5.    Laurentian – 152
6.    McMaster – 153
7.    Windsor – 174
8.    Waterloo – 179
9.    Brock – 307
10.    York – 310
11.    Laurier – 334
12.    Nipissing – 360
13.    Trent – 400
Laurentian – Individual Places
(Team scoring places)
19. Samantha Edwards ,22:00
29. Emily Marcolini (Sudbury), 22:34
31. Katie Wismer, 22:37
33. Alyssa Bedard, 22:43
40, Marissa Lobert, 22:59
52.  Michelle Kennedy, 23:25
57. Adrienne Wilson, 24:07
(overall places below)
89. Coralea Kappel, 24:22
97.  Meghan Rothenbroker, 24:37
107. Lyndsay Greasley, 25:01
118. Jenna Thornber, 25:38
121. Leanne Sanders, 25:52
128. Carly Charbonneau, 26:17
130. Charlotte Van Walraven, 26:27
Full Team Results: http://www.guelphvictors.ca/wt.htm
Full Individual Results:  http://www.guelphvictors.ca/Vic%20matthews%20Restults.htm