Results: OUA Indoor Track & Field Championships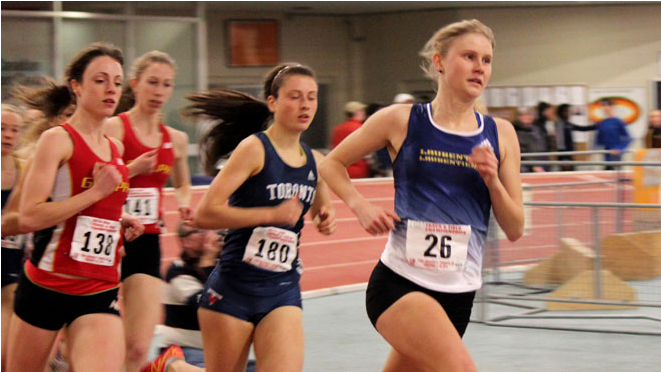 York University,
Feb 21-22, 2014
Seven athletes from the Laurentian University women's track team competed at the OUA Championships this weekend at York University. They returned with two top-8 finishes and a number of personal best performances.
The Voyageur contingent was led by senior Adrienne Wilson (Kitchener), who placed a surprise 6th in the 1000m with a personal best time of 2:56.91.
Pentathlete Alicia Violin (Hanmer) was also a surprise, finishing 7th with a personal best score of 3068 points. Violin, new to the event,
racked up pentathlon bests in all five events,  running 9.48 in the 60 hurdles and 2:37.23 in the 800m; jumping 1.51m in the high jump and 5.05m in the long jump, and throwing 8.85m in the shot put. Violin also competed in the open high jump and triple jump on the second day of the meet, placing 9th in the high jump with a leap of 1.52m and 11th in the triple jump with a distance of 10.59m.
The Vees had three women in the 1500m, with rookie Marissa Lobert (Sault Ste. Marie) running a personal best time of 4:49.83 to place 16th. Sam Edwards (Toronto) followed with a 4:52.50 for 19th and Adrienne Wilson, coming off her hard 1000m the day before, placed 20th with a 4:53.13.
In the 3000m,  Marissa Lobert finished 14th with a time of 10:08.79. She was followed by Alyssa Bedard (North Bay), 20th with a 10:19.04, and Michelle Kennedy (London), 21st in 10:26.86.
Adrienne Wilson is currently ranked 14th in the nation in the 1500m and has a small chance of qualifying for Nationals, with the decision to be made by Wednesday.  Otherwise, this concludes the indoor season for the Laurentian women's squad. They now take a couple of weeks off, then begin training for summer meets and next Fall's cross-country season.
Laurentian Results
1000m
6. Adrienne Wilson, 2:56.91
20. Samantha Edwards, 3:08.63
Pentathlon
7. Alicia Violin, 3068
60mH, 9.48
HJ, 1.51m
LJ, 5.05m
Shot, 8.85m
800m, 2:37.23
1500m
16. Marissa Lobert, 4:49.83 PB
19. Samantha Edwards, 4:52.50
20. Adrienne Wilson, 4:53.13
3000m
14. Marissa Lobert, 10:08.79
20. Alyssa Bedard, 10:19.04
21. Michelle Kennedy, 10:26.86
Triple Jump
11. Alicia Violin, 10.59m
High Jump
9. Alicia Violin, 1.52m