Laurentian Places 13th at Nationals
CIS Cross-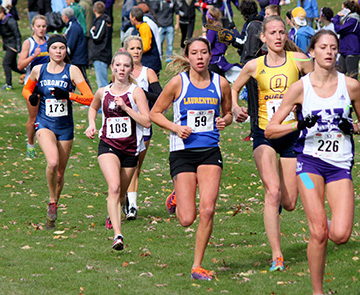 Country Championships
Thames Valley Golf Course, London, ON
11/9/13
The Laurentian women's cross-country running team competed at the CIS (Canadian University) championships in London this weekend, completing their season with 356 points and a 13th place finish in a field that included 20 full teams plus individual athletes from seven additional universities.
The Laurentian squad was led by third-year runner, Michelle Kennedy (London) who placed 51st in the scoring with a time of 23:23 over the tough 6 km course. She was followed by second-year Samantha Edwards (Toronto), 66th with a time of 23:46;
third-year Katie Wismer (Sudbury) 77th in 24:04; rookie Marissa Lobert (Sault Ste. Marie), 80th in 24:08; and senior Alyssa Bedard (North Bay), 82nd and 24:09. Senior Adrienne Wilson (Kitchener), 104th in 25:12, and rookie Lindsay Greasley (Sudbury), 112th in 25:38, acted as displacers.
"We weren't at our best at this championship," said head coach Dick Moss. "So we'll definitely be tweaking our program next year. That said, we've taken a big step this season. Last year, we were only 10th in the OUA. This year, we spent three weeks ranked in the top-10 in the country, and we were definitely within striking distance of the top-10 in this race. Four of our runners from this event will be back next year, in addition to Emily Marcolini, who had to sit out because of a back injury. So this team has a bright future."
Assistant coach, Darren Jermyn, added: "We were only three points behind 12th place Dalhousie, 18 points behind 11th-place Waterloo, and 48 points from a top-10 finish. This is all very doable, and we'll definitely be looking for a top-10 finish next year."
The Laurentian women's distance runners now take a short break before they begin training for the indoor track season.
Team Results
Guelph, 31 points
Western, 90 points
Queens, 115
Trinity Western, 130
Toronto, 148
McMaster, 193
McGill, 201
Victoria, 206
Windsor, 258
Calgary, 308
Waterloo, 338
Dalhousie, 353
Laurentian, 356
Sherbrooke, 374
Alberta, 376
Regina, 390
Manitoba, 405
Laval, 434
Concordia, 496
Saskatchewan, 497
Partial teams – Lakehead, Laurier, Moncton, Ottawa, St. FX, New Brunswick, Québec Trois Riviere.
Laurentian Results – Score and Time
51, Michelle Kennedy
66, Samantha Edwards
77, Katie Wismer
80, Marissa Lobert
82, Alyssa Bedard
104, Adrienne Wilson
112, Lindsay Greasley