Results – Sharon Anderson & Guelph New Year's Opener, 2014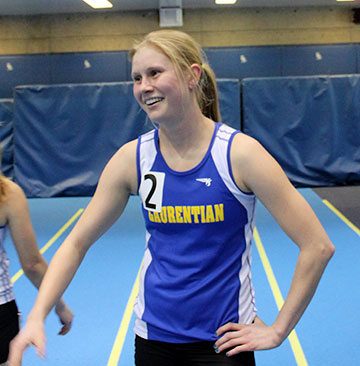 Sharon Anderson & Guelph New Year's Opener
U. of Toronto and U. of Guelph
The Laurentian women's indoor track team opened their season this weekend at the University of Toronto's Sharon Anderson Open and the Guelph New Year's Opener.
The Vees returned with five medals and 10  top-six performances. At the Sharon Anderson meet, senior Adrienne Wilson won the 1500m with a fast kick, while breaking the OUA qualifying standard by over 10 seconds. Also qualifying for the OUA's was Samantha Edwards, who placed 4th in the 1500m with a time of 4:53.95 and Ashley Huard, who placed 5th in the 60m with a time of 7.84.
Pentathlete Alicia Violin placed 2nd in the shot put and fourth in both the 60m hurdles and long jump. She, along with Ashley Huard, Samantha Edwards, Michelle Kennedy and Lyndsay Greasley set personal bests in their events.
Two Laurentian athletes also competed at the Guelph New Year's Opener. Jackie Bray and Dani Gorrell placed 1st and second in the triple jump, with leaps of 10.39m and 10.02m respectively. Bray also placed 7th in the long jump with a distance of 4.54m.
The Voyageurs' next meet is in two weeks at the Fred Foot Invitational at the University of Toronto.
Laurentian Results
Adrienne Wilson
1st, 1500m, 4:44.51 (OUA Standard)
Samantha Edwards
4th, 1500m, 4:53.95 (Indoor PB – OUA Standard)
Ashley Huard
5th, 60m, 7.86, 7.84 heats (PB- OUA Standard)
Alicia Violin
2nd, Shot Put, 7.85 (PB)
4th, 60m Hurdles, 10.06, 9.66 heats (PB)
4th, Long Jump, 4.77m
Michelle Kennedy
6th, 1500m, 5:01.09 (PB)
Lyndsay Greasley
3rd, 3000m, 11:16.73 (PB)
Jackie Bray
1st, Triple Jump, 10.39m
7th, Long Jump, 4.54m
Dani Gorrell
2nd, Triple Jump, 10.02m