Laurentian places 7th at OUA's & Qualify for the CI's.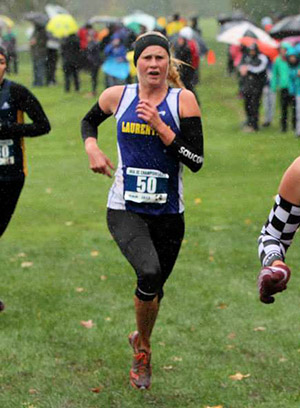 OUA Cross-Country Running Championships
Chedoke Golf Course, Hamilton, October 26th
The Laurentian women's cross-country running team competed at the OUA championships on Saturday, placing 7th out of 15 teams. Running in heavy rain and winds on Hamilton's Chedoke Golf Course, the Voyageurs scored 229 points.
Last year, Laurentian finished 10th at this championship.
Laurentian was led by second year runner, Samantha Edwards, who placed 38th in a time of 24:10 over the 6km course.  She was followed by 3rd year Michelle Kennedy who placed 40th  in 24:20, rookie Marissa Lobert who was 46th in 24:33, 4th year Adrienne Wilson who placed 48th in 24:44,  and 3rd year Katie Wismer who was 57th in 25:34.
Rookie Emily Marcolini, still healing from an injury, was held out of the race.
Laurentian's score was identical to Waterloo's, but OUA regulations break ties by counting back to the 6th place finisher on the tied teams. Laurentian's 6th place, Alyssa Bedard, finished 58th, while Waterloos' 6th was 81st.
"It was a rough day for us,"  said head coach, Dick Moss. "The team didn't race well in the muddy conditions, and, while we had some excellent individual performances, some of our runners would like to have a do-over on that race. Fortunately, they'll get their wish in two weeks at the CIS championships."
Laurentian competes in their final race of the year at the CIS Championships in London on November 9th.
Team Scores
1 Guelph Gryphons, 25
2 Western Mustangs, 82
3 Toronto Varsityblues, 89
4 Queen's Gaels, 92
5 Windsor Lancers, 151
6 Mcmaster Marauders, 153
7 Laurentian Voyaguers, 229
8 Waterloo Warriors, 229
9 Ottawa Gee Gees, 231
10 Lakehead T'wolves, 294
11 Brock Badgers, 341
12 York Lions, 344
13 Laurier Golden Hawks, 377
14 Nipissing Lakers, 400
15 Trent Excalabur, 466
Individual Scores
38. Samatha Edwards, 24:10
40. Michelle Kennedy, 24:20
46. Marissa Lobert, 24:33
48. Adrienne Wilson, 24:44
57. Katie Wismer, 25:34
58. Alyssa Bedard, 25:36
69. Lydsay Greasley, 26:09
Total: 101 runners