Laurentian Places 2nd at the Geneseo Invitational/Pre-Atlantic Regionals in NY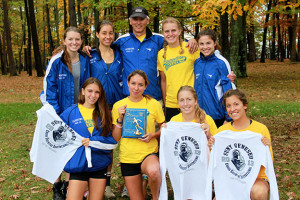 Geneseo Invitational/Pre-Atlantic Regionals
Geneseo State Park, NY

The Laurentian women's cross-country team competed at the Pre-Atlantic Conference Regional meet this weekend. The race was hosted by New York State's Geneseo University at Letchworth State Park in Mount Morris, NY.
 
The Voyageurs placed 2nd with a score of 99 points. They finished behind only Geneseo in a field featuring 250 runners from 16 NCAA Division III universities and two Canadian schools.
Laurentian is currently ranked 9th in the Canadian university rankings.
Laurentian was led by second-year runner, Samantha Edwards, who placed 4th in a time of 22:19 over the 6km course.
She was followed by Katie Wismer who was 18th in 22:46, Alyssa Bedard who was 22nd in 22:54, MIchelle Kennedy, 25th in 23:01 and Marissa Lobert, who completed the scoring in 33rd with a time of 23:12.
Displacers were Lyndsay Greasley who finished 86th in 24:14 and Meghan Rothenbroker, who was 101st in 24:30. Coralea Kappel finished in 106th in 24:40.
Michelle Kennedy, Lyndsay Greasley and Meghan Rothenbroker ran personal bests on a course that was more difficult than last week's Guelph course.
Adrienne Wilson and Jenna Thornber were away on a school-related trip and I held Emily Marcolini out as a precautionary measure for a sore leg.
"This race is always a lot of fun," said head coach, Dick Moss. "With a field of 250 runners, you always have a pack around you and the fans are very loud. Sam ran great, as always. Katie is racing better with every competition, Michelle had the race of her life, and Alyssa and Marissa were so close behind that our team spread was only 53 seconds and we had our five scoring runners across the line in the top 31 – and that's one of the keys to successful cross-country racing."
After three races in a row, the Laurentian squad will rest over Thanksgiving weekend, then return to action at the OUA Championships on October 26th in Hamilton.
Individual Laurentian Places
4. Samantha Edwards, 22:19
18. Katie Wismer, 22:46
22. Alyssa Bedard, 22:54
25. Michelle Kennedy, 23:01
31. Marissa Lobert, 23:12
71. Lyndsay Greasley, 24:14
82. Meghan Rothenbroker, 24:30
106. Coralea Kappel, 24:40
Team Scores
1. Geneseo, 55
2. Laurentian, 99
3. Vassar, 135
4. Rochester
5. Hamilton, 159
6. Ottawa, 177
7. Ithica, 185
8. RPI, 187
9. New Paltz, 222
10. Fredonia, 272
11. Plattsburgh, 296
12. Utica, 323
13. Brockport, 336
14. Nazareth, 365
15. St. John Fisher, 391
16. Oswego, 416
17. William Smith, 493
18. Alfred State, 607