Results – Fred Foot Memorial Track Meet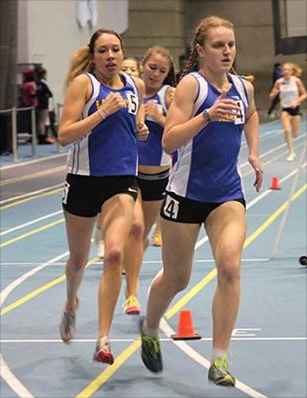 Fred Foot Memorial
Laurentian Indoor Track Results –
University of Toronto Indoor Track, January 18, 2014
The Laurentian Women's track team competed at the U. of Toronto's Fred Foot Memorial track meet this weekend, returning with four medals, 11 personal bests and four OUA qualifying marks.
Rookie Marissa Lobert (Sault Ste Marie) won gold in the 3000m, finishing with a 13 second personal best time of 10:18.91. That time is 22 seconds under the OUA qualifying standard of 10:40.0. Three other Voyageurs beat the qualifying standard in the 3000m, with Samantha Edwards (Toronto) placing 3rd with a time of 10:25.69, Alyssa Bedard (North Bay) placing fourth in 10:27.96 and Michelle Kennedy (London) placing 5th in 10:36.93. All were personal best times. Lyndsay Greasley (Sudbury) also ran a large personal best, placing 7th in 11:04.36.
Sprinter Ashley Huard (Hanmer) who also has already qualified for the OUA's, won her first medal as a Laurentian athlete, placing 1st among university athletes in the 60m and 3rd overall. Her time was 7.87.
Adrienne Wilson (Kitchener), who has already qualified for the OUA's, continued her strong season in the metric mile, placing 2nd in the 1500m with a personal best time of 4:39.43. It's the first time Wilson has dipped below the magic 4:40 barrier. National team steeplechaser, Genevieve Lalonde, placed first in the event.
Athletes from Laurentian, U. of Toronto, York, Guelph, Western, Queen's, Laurier, and a number of track clubs competed in the event.
The Voyageurs' next competition is the York Open on February 1st.
Laurentian Results
3000m
1. Marissa Lobert, 10:18.91 (Personal Best-OUA Qualifed)
3. Samantha Edwards, 10:25.69 (PB – OUA)
4. Alyssa Bedard, 10:27.96 (PB – OUA)
5. Michelle Kennedy, 10:36.93 (PB – OUA)
7. Lyndsay Greasley, 11:04.36 (PB)
1500m
2. Adrienne Wilson, 4:39.43 (PB)
16. Carly Charbonneau, 5:26.91 (PB)
60m
1st university-3rd overall. Ashley Huard, 7.87
600m
5. Coralea Kappel, 1:49.55
6. Leanne Sanders, 1:50.13 (PB)
7. Jenna Thornber, 1:56.45
Pentathlon
6th university-8th overall, 2662 points (PB)
1000m
7. Meghan Rothenbroker, 3:18.15 (PB)
10. Jenna Thornber, 3:33.24
300m
16. Leanne Sanders, 49.50 (PB)
‪#‎luxctrack‬
Full results:
http://www.trackie.com/track-and-field/Results/2014-fred-foot-memorial/2973/