Results – York Open Indoor Track Meet Toronto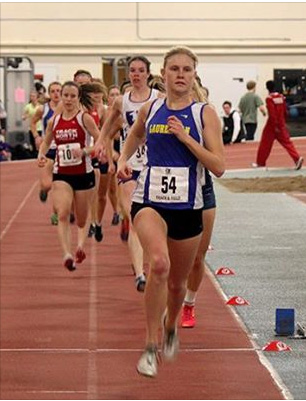 York Open Indoor Track Meet
Laurentian Results
York University Track, Toronto, 2/1/14
The Laurentian women's track team competed at the York University Open indoor track and field meet this weekend, returning with two medals, five OUA qualifying marks and 16 personal bests.
The Vees were led by Adrienne Wilson's bronze medal in the hotly-contested 1500m. Wilson (Kitchener) ran a personal-best time of 4:38.09 that, as of February 2nd, ranks her 9th in the OUA and 13th in the CIS.
Rookie sprinter, Ashley Huard (Hanmer) experienced the toughest competition, racing the 60m and 300m against three athletes who represented Canada at the London Olympics. They included Phylicia George, who finished 6th in the Olympic 100m hurdles; Jenna Martin, a semi-finalist in the 400m and Sarah Wells, a semi-finalist in the 400m hurdles. Huard placed 4th among university runners and 7th overall in the 60m, running a school record and personal best time of 7.79. She also placed 17th in the 300m, meeting the OUA standard with a personal best time of 41.99.
Other OUA qualifiers include Samantha Edwards (Toronto) and Marissa Lobert (Sault Ste Marie) in the 1500, Samantha Edwards in the 1000m, and Alicia Violin (Hanmer) in the high jump.
Lyndsay Greasley (Sudbury) won a bronze medal in the 3000m, with an 8-second personal best time of 10:56.56.
Of note was pentathlete Alicia Violin, who qualified for the OUAs in the high jump with a personal best leap of 1:55m, while also competing in the open long jump, shot put, 60m hurdles, triple jump and 600m. The long jump, shot put and high jump were all contested simultaneously.
The squad's next meet is February 7th at the Valentine Invitational, in Boston, MA.
Laurentian Results
1500m
3. Adrienne Wilson, 4:38.09 PB
8. Samantha Edwards, 8th, 4:49.28 PB OUA Qualifier
10. Marissa Lobert, 4:50.71 PB OUA Qualifier
12. Michelle Kennedy, 4:55.09 PB
13, Alyssa Bedard, 4:56.08 PB
60m
7th. Ashley Huard, (4th University) 7.79 PB
300m
17. Ashley Huard, 41.99 PB OUA Qualifier
29. Jenna Thornber, 47.62 PB
1000m
6. Sam 3:04.67 PB OUA Qualifier
12. Meg 3:13.58 PB
15. Carly 3:21.95 PB
3000m
3. Lindsay Greasley, 10:56.56 PB
3. Emily Marcolini, 10:57.18
600m
9. Leanne Sanders, 1:48.59 PB
12. Alicia Violin, 1:56.0 PB
High Jump
4. Alicia Violin, 1.55 PB, OUA Qualifier
60m Hurdles
18. AliciaViolin, 9.78
Shot Put
14. Alicia Violin, 6.27
Triple Jump
10. Alicia Violin, 10.28 metres
12. Jackie Bray, 10.20 metres
13. Dani Gorrell, 9.75
Long Jump
20. Alicia Violin 4.60
21. Dani Gorrell 4.27
4 x 400 Relay
3. LU 4:30.10