Results: Hal Brown Last Chance Memorial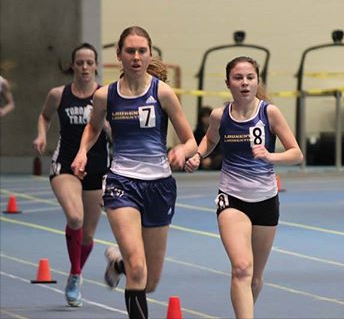 Hal Brown Last Chance Memorial Meet
Laurentian Track Results:
U. of Toronto Track, 2/14/14
The Laurentian women's track team sent a partial squad to the University of Toronto for the Hal Brown Last Chance Memorial meet this weekend.
The team was led by 3000 metre runners Lyndsay Greasely and Emily Marcolini, who ran excellent team tactics in pushing the pace over the gruelling 15-lap race. Greasely finished 4th with a time of 10:46.48, just ahead of Marcolini's 5th place 10:47.09. It was a personal best for Greasley and and indoor best for Marcolini.
Other personal bests were achieved by Meghan Rothenbroker and Leanne Sanders in the 600m; Carly Charbonneau in the 1000m; and Alicia Violin in the shot put.
The Voyageurs next competition is the OUA Championships next Friday and Saturday at the York University track.
Laurentian Results
600m
9. Meghan Rothenbroker, 1:44.64 PB
11. Leanne Sanders, 1:50.38 PB
12. Jenna Thornber, 1:51.89 PB
1000m
5. Carly Charbonneau, 3:16.04 PB
3000m
4. Lyndsay Greasley, 10:46.48 PB
5. Emily Marcolini, 10:47.09 Indoor PB
Shot Put
1. Alicia Violin, 8.95m PB
Long Jump
3. Jackie Bray, 4.51m
Triple Jump
2. Jackie Bray 9.99m
High Jump
6. Alicia Violin, 1.43m