Results – U. of Boston Valentine Invitational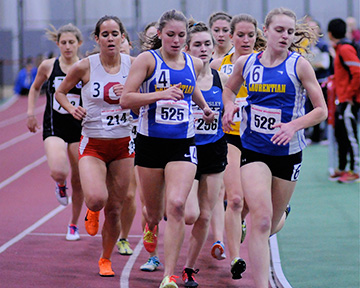 Dave Hemery Valentine Invitational
Laurentian U. Results –
U. of Boston Indoor Track, February 7th, 2014
Eight athletes from the Laurentian women's track team traveled across the border this weekend, competing at the Dave Hemery Valentine Invitational at the University of Boston. The squad returned with seven personal bests and two OUA qualifying standards in this major meet that involved dozens of east-coast universities and teams from as far away as Texas.
The Vees were led by senior runner, Adrienne Wilson, who ran a 3-second personal best in the mile with a time of 4:56.69 (equal to a 4:35.19/1500m). She was 21st of 168 runners. Only two hours later, she ran a 7-second personal best time of 2:57.39 in the1000m, finishing 13th and breaking the OUA qualification standard of 3:05.
The 3000m reaped four personal best performances for Laurentian runners, with rookie Marissa Lobert running a 14-second personal best time of 10:04.40; Alyssa Bedard, a 16-second PB time of 10:11.92; Michelle Kennedy, a 22-second PB time of 10:14.51; and Samantha Edwards, an 8-second PB time of 10:17.15. Kennedy's time qualified her for the OUA championships. The Vees placed 67th, 77th, 80th and 88th, respectively.
Alicia Violin met the OUA standard in the triple jump, leaping an indoor best distance of 11.15 meters for 18th place.
Laurentian's track team's next competition is the Hal Brown Last Chance in Toronto,  next Friday, followed by the OUA Championships at York on February 21st.
Laurentian Results
Mile
21. Adrienne Wilson, 4:56.69  (4:35.19 equivalent) PB
1000m
13. Adrienne Wilson, 2:57.39 PB (OUA qualifier)
3000m
67. Marissa Lobert, 10:04.40 PB
77. Alyssa Bedard, 10:11.92 PB
80. Michelle Kennedy, 10:14.51 PB  (OUA Qualifier)
88. Samantha Edwards, 10:17.15 PB
120. Katie Wismer, 11:07.65 PB
Triple Jump
18. Alicia Violin, 11.15m  (Indoor PB – OUA Qualifier)
60m Dash
18. Ashley Huard, 7.88
60m Hurdles
69. Alicia Violin, 10.07
Long Jump
49. Alicia Violin, 4.77m