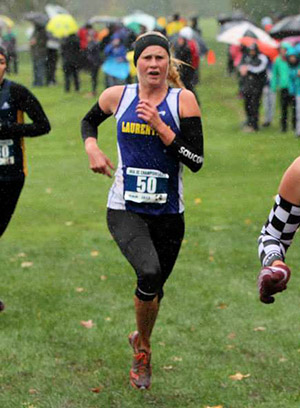 OUA Cross-Country Running Championships
Chedoke Golf Course, Hamilton, October 26th
The Laurentian women's cross-country running team competed at the OUA championships on Saturday, placing 7th out of 15 teams. Running in heavy rain and winds on Hamilton's Chedoke Golf Course, the Voyageurs scored 229 points.
Last year, Laurentian finished 10th at this championship.
Laurentian was led by second year runner, Samantha Edwards, who placed 38th in a time of 24:10 over the 6km course.  She was followed by 3rd year Michelle Kennedy who placed 40th  in 24:20, rookie Marissa Lobert who was 46th in 24:33, 4th year Adrienne Wilson who placed 48th in 24:44,  and 3rd year Katie Wismer who was 57th in 25:34. Continue Reading